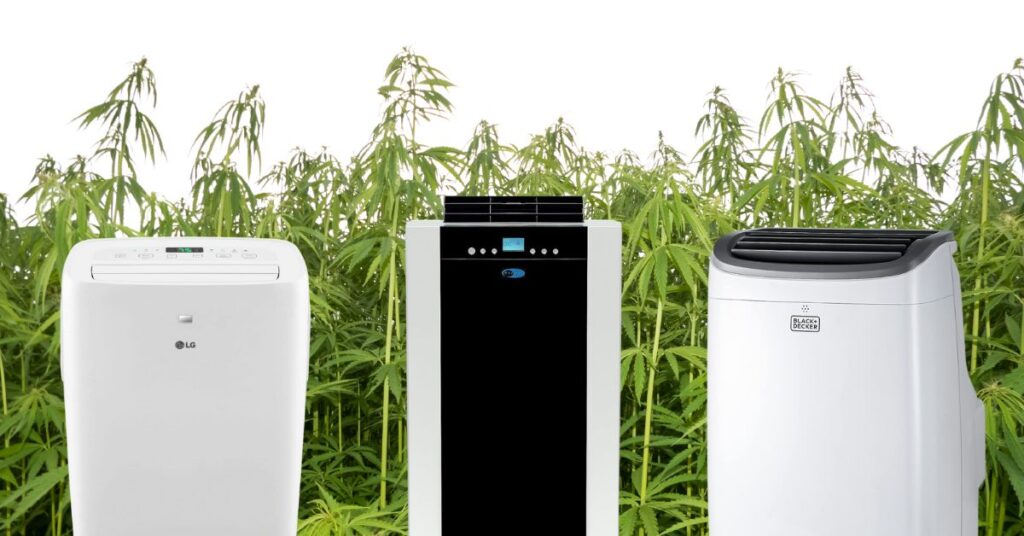 Top 25 Best AC For Grow Tent(s): Top Portable Air Conditioners
Your Guide To The Best Air Conditioners For Grow Tents, Greenhouses Or Any Controlled Environment For Growing Indoors
So you've decided to set up a grow tent?   Excellent.   Whether you're planning to grow vegetables, cannabis plants, or microgreens – you're going to need to regulate the temperature in your grow tent.
In this article, with my 20+ years of experience as a horticulturist growing in greenhouses and indoor hydroponics, I will be guiding you to the best AC for grow tent(s).   
Together we will focus on finding a good air conditioner for small, medium, and large grow tents. 
We will cover the energy efficiency, cooling capacity, cooling power, and power consumption of the 25 best grow room air conditioners to use in your indoor grow room.
Before we do a deep dive into the best grow room ac unit – here are my personal top 3 picks ranked from small room to large room AC portable units:
My Top 3 AC Picks For A Grow Tent
Best Small Grow Room AC Unit:
Best Medium-Size Grow Room AC Unit:
Best Large Grow Room AC Unit:
Best Small Grow Room Air Conditioner Units
Whether your grow tent is in your garage, basement, or spare bedroom, the excessive heat from your grow lights along with the high humidity levels produced by hydroponic systems make a small space portable ac unit a must.
Not only are these the best portable air conditioner unit options, to moderate optimal temperature levels in a grow room environment, but most of these air conditioners also have built-in dehumidifiers.
That way, besides establishing the ideal temperature you will also be able to control humidity levels as well.
Here are some of the best air conditioning options to provide cool air and reduce high humidity level(s) in small grow tents:
Midea is a popular brand well-known for being a good air conditioner manufacturer.  Choosing a Midea air conditioner to regulate the indoor environment for your grow tent is an excellent idea. 
As a general rule of thumb, buying a highly-rated unit, used by thousands of growers, is a good decision.
These two options offer the right size for good cooling and air circulation in your hydroponic grow room or grow tent.   
These units will reduce excess heat while dehumidifying the air in both tiny and small grow tents.
Tosot is a brand known for making high standard air conditioner (s) and evaporative coolers.
One of the primary reasons customers buy Tosot brand air conditioning units, to regulate their grow room temperature (s), is because these units are reliable and affordable.
This highly-rated brand comes with a remote control and multiple fan speeds to reduce the high temperatures indoor growers try to mitigate in their grow tents.
Costway is one of the best portable ac unit makers and one of the best solution (s) to reduce the hot air produced by grow lights in your grow tent.
Many growers find this model, with its exhaust hose, the best option for grow tents with small floor space.
Manufactured in the USA, Italy, and Mexico, Frigidaire AC appliances have been reliable sources of cold air for a long time.
These well-made AC units encourage plant growth in grow tents without using too much power while bringing fresh cool air into your indoor garden space.
Warm air doesn't stand a chance with a grow tent AC unit from Rocsummo.   The good thing is that these 3-in-1 mini-split air conditioners are available to order on Amazon.
Within no time your grow tent will be enjoying the best temperatures and keeping your plants healthy and happy.
For complete control of your grow room environment, this "Amazon's Choice" LG portable air conditioner is an excellent choice.
With its "quiet mode" enabled, the noise level from your grow space will never be a problem.
71% of customers rated this with 5 stars for low energy consumption and high performance in small room environments like grow tents.
For 150 square feet grow tent spaces, this GE portable AC unit, with its clear LED display, efficiently provides the most important thing for indoor growers – cool dehumidified air.
Best Air Conditioner For Medium-Size Grow Rooms
If your grow room is somewhere between large and small, these medium-sized portable units are the way to achieve the main goal of grow tents which is to provide cool dehumidified air for your plants.
Starting with this Black Decker (Black+Decker) option, which covers 350 square feet of floor space, these are my top picks for medium size portable AC units for grow tents.
Best AC Units For Large Grow Rooms
If your grow tent is 500 square feet or larger, these are the best portable air conditioner units for you.
Starting with this Whynter arc-14s dehumidifier, these free-standing and window air conditioners will keep your plants at the perfect temperature to produce happy crops with high yields for a long time.
Why Do You Need An Air Conditioner In A Grow Tent?
If you're shopping for the best air conditioner for your grow tent, then you most likely already know why these portable units are so important.
But on the off chance you're just starting out on your grow tent journey, these are some of the reasons you need a reliable air conditioner for your hydroponic grow room.
Grow Lights Create Excess Heat
Traditional grow lights produce hot air which can damage your crops.  
That's why many growers have opted to use LED grow lights which are a better idea because they not only use less energy but also produce less heat.
However, even though LED lights are a better option, they still raise the temperature of your grow tent which is the main reason you need the best portable air conditioner you can find.
Your plants will grow better and produce better crops.
If you have a fan in your grow tent but it's still getting too hot, one reason may be that your humidity levels are too high.
When there is too much humidity in your grow tent or grow room, your plants are prone to fungal diseases and rot.
In order to reduce this issue in your hydroponic grow room, you need to get at least a small grow room air conditioner that both cools the air but also dehumidifies it as well.
Most of the portable units that I included for you in this article are equipped with a dehumidifier as well as cool air options.
Once you have chosen the best grow room air conditioner for your grow tent, you will want to make sure that your space is insulated so that the cool air doesn't escape and the outside heat doesn't get inside your controlled environment.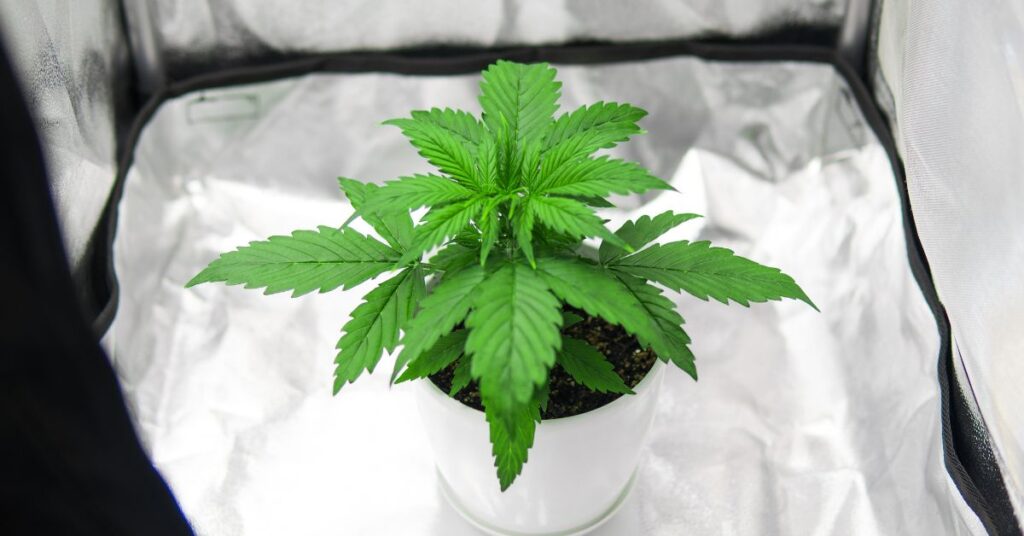 My Personal Favorite & Best 4x4 Grow Tent
Below is one of my personal favorite insulated grow tent for homeowners.
In my opinion, this is one of the very best 4×4 grow tent (s) on the market today:
Happy Growing In Your Grow Tent!
Whether you're just starting out or you simply need to upgrade your grow room ac unit, these options will help you find the very best grow room air conditioner unit.
Remember to check your floor space and determine how many square feet you are trying to cool.   Once you know what you're working with, you will be able to decide what size AC unit is right for you.
Best of luck to you and happy growing!
If you have any questions about any of these items or anything discussed in this article, please email me at: contact@nathanheinrich.com
Disclosure:
Here at All Roads Lead To Italy, we only recommend products we would use ourselves and all opinions expressed here are our own.
This post may contain affiliate links with potential savings at no additional cost to you.  
In some cases, we may earn a small commission.
Read our privacy policy for full details.
Nathan is a writer, designer, and horticulturist. Son of a 5th-generation California farming family, Nathan has a lifelong love for growing things. Nathan lives on a farm in the hills of Rome where he shares, weekly articles and videos about farming, gardening, botanical design, and more.